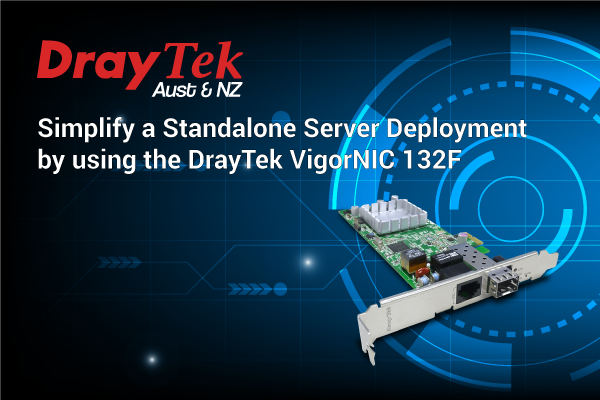 The VigorNIC 132F is a fully functional ADSL2+/VDSL2 router with a PCI express card for connecting to a PCI slot on PCs or servers. It is based on the Vigor130 platform with the addition of a SFP slot to accommodate an optic fibre connection. The VigorNIC 132 is a fully functional router in PCI Express card format, and is ideal for servers requiring direct Internet access.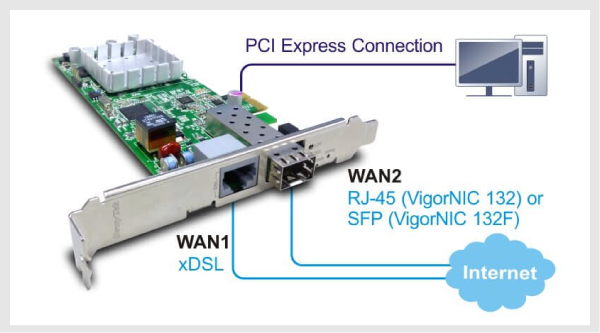 An advantage of using the PCI express card when compared to using an external router is that no external power supply or additional cabling is required. In addition, rack space requirements are reduced since the card is fitted inside the server.
Fully Functional Router
The Vigor132F is a fully functional router based on DrayOS and includes object Firewall facilities with Stateful Packet Inspection. It can be configured to be used in bridge or router mode depending on the application requirements.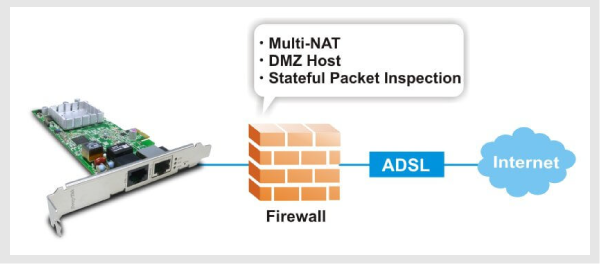 Deployment Example
The diagram below shows a deployment example in which the VigorNIC132F's PCI Express card provides an ideal solution. Here we have a server (Windows 8, 10 or Ubuntu) that runs a number of virtual machines and hosts a number of web servers or other types of services.

The VigorNIC 132F is installed directly inside the server and connects the server directly to the Internet. The DHCP services, Firewall protection and Port Forwarding are handled by the VigorNIC 132F. This will be handy for a company wishing to provide Internet services for the public but without the worry of providing extra security for the internal corporate network since the server is external to the company network.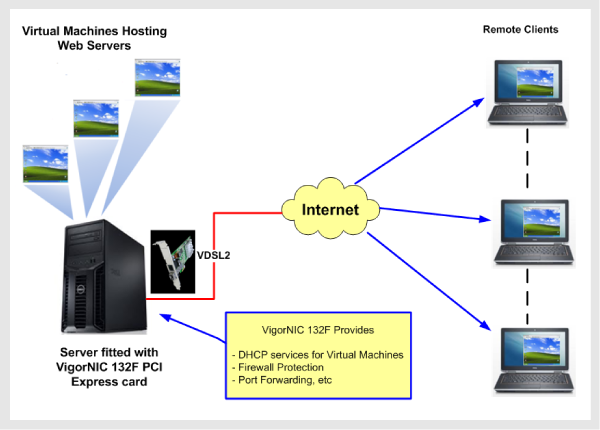 Specifications
Hardware Interface
1 x VDSL2/ADSL2+ port with RJ-11 for Annex A (WAN1)
1 x SFP Fibre Ethernet (WAN2)
1 x PCI Express 1.1 Bus with (x1) Connector
1 x Factory Reset button
---
Firewall
DMZ Host, Port-redirection(Up to 20 entries) and Open Port(Up to 20 entries)
MAC Address Filter
SPI (Stateful Packet Inspection)
DoS Prevention
E-mail Alert and Logging via Syslog
Time Schedule Control
VPN Pass-through (IPsec, PPTP, L2TP)